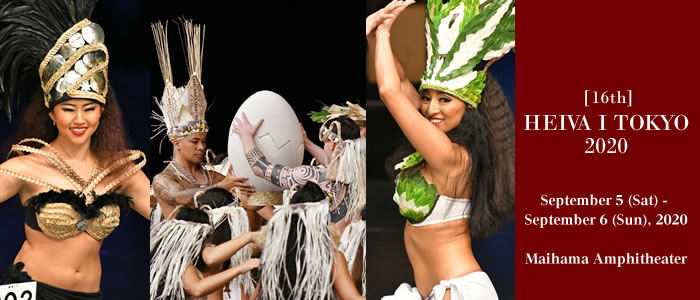 HEIVA I TOKYO 2020
Notification of Cancellation
Heiva i Tokyo 2020 was scheduled for the 5th and 6th of September, 2020. We have considered all of your responses which you kindly offered. But in response to the COVID-19 pandemic as well as to the state of society today, for the safety of the participants and judges, and in an attempt to further prevent the spread of the virus, we have decided to cancel the event.
For all of you who had hoped that Heiva i Tokyo 2020 would go on as planned, and who therefore put all your time into practicing, we are terribly sorry and apologize from our hearts.
Here at Tahiti Heiva in Japan, we will not let the light of 'Ori Tahiti brought here to Japan be extinguished. We will work on guidelines to prevent the spread of the virus based on government standards, and will explore ways to safely hold future events.
We will place notifications on our website, as soon as information is available about future events.
The entire staff of Tahiti Heiva in Japan prays that this situation gets better soon and await the day that we can see all of your smiling faces once again.
7 July 2020, Tahiti Heiva in Japan
Event Date
September 5 (Sat) - September 6 (Sun), 2020
Tahiti Heiva in Japan
3-9-15 Ebisu, Shibuya-ku, Tokyo Japan 150-003
Tel.: 31-3-6277-1746
Fax.: 31-3-6277-4458
URL: http://www.tahiti-heiva.com
Email:
info@tahiti-heiva.com
---