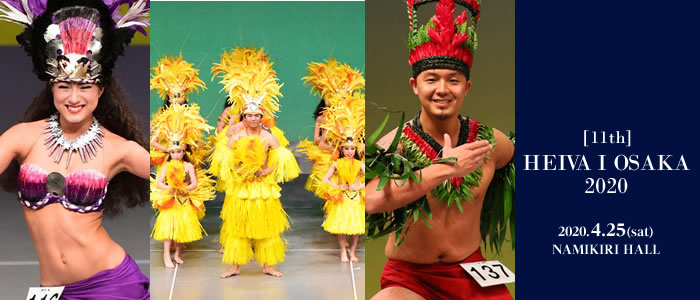 Heiva I Osaka 2020 Cancellation
With the state of the world-wide COVID-19 pandemic, we are very saddened that this event has caused more distress in so many people.
As a result of the decision made by the French Polynesian government, Air Tahiti Nui has announced cancellation of all flights between Narita and Tahiti until the end of April 2020. Therefore it is clearly not possible for our intended judges to make it to Japan.
After much consideration by the Tahiti Heiva in Japan Office, it is with great difficulty that we have decided to cancel Heiva I Osaka 2020. We feel terribly for all of you who have put so much effort into practicing for this competition, and we apologize to each of you from our hearts.
As for information on ticket payments made for the contestants and attendees, in the coming days, we will send a follow-up email to the contact person of each studio. Please allow us some time to work on this. We humbly ask for your understanding and patience.
23 March 2020, Tahiti Heiva in Japan
Event Date
April 25 (Sat), 2020
Tahiti Heiva in Japan
3-9-15 Ebisu, Shibuya-ku, Tokyo Japan 150-003
Tel.: 31-3-6277-1746
Fax.: 31-3-6277-4458
URL: http://www.tahiti-heiva.com
Email:
info@tahiti-heiva.com
---